Pradeep Pasnoor
Director - Operations & Finance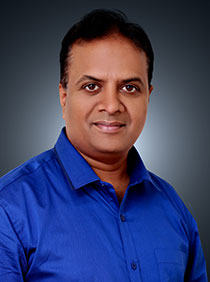 Pradeep's association with MITS started way back in 2005, when MITS was in its nascent stage. He oversees finance and accounts, taxation, business planning, compliance, reporting, procurement and travel & immigration functions at MITS.
Having worked with MITS from the early stages, Pradeep is known for his expertise in setting up Offshore Development Centers, capacity planning, corporate funding, banking and strategic planning, business modeling, capital budgeting and restructuring. His unstinted support and focus across several organizational functions such as HR, Admin, Finance and Operations over the years helped MITS create a strong wealth of customer success stories built on sustained support and impeccable service quality.
Earlier to joining MITS Pradeep was associated with Marketing & Operations group of Reliance Infocomm
He is a commerce graduate and obtained his Master's degree in Business Administration from IGNOU.