Sreedhar Chinnapolla
Managing Director & Chief Executive Officer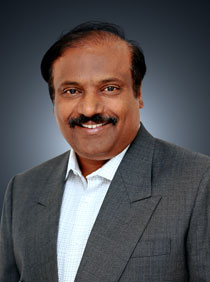 Sreedhar Chinnapolla, is a serial entrepreneur and brings to the table more than 20 years of experience in IT transformation and leadership. Under Sreedhar's able leadership, MITS in a decade's time, has grown in to a major technology force to recon with in the ECM and BPM space. Sreedhar's vision, strategy coupled with his experience in complex cross country operations and business development enabled MITS to reach new levels.
His sustained push for quality service delivery, diligence in implementation made him a very familiar face with IBM and made MITS an advanced business partner apart from being awarded as the Best IBM partner in several categories three times in the last four years.
Sreedhar's deep rooted business relationships, foresight and the trust in the customer community made MITS services available to most of the Countries in APAC, North America and Europe in a very short time span. As part of the MITS growth story, MITS successfully implemented and delivered varied ECM & BPM solutions to leaders in banking, education, finance and government as their preferred solutions partner of choice.
When Information Technology was in a nascent stage in India, Sreedhar established training centers for graduates on IBM Mainframes, Oracle and Java. Sreedhar was also associated with Infokall – India, as a COO & served as an MD for multinational organizations involved in ERP, EAI, E-com and WAP implementations. He is also credited with establishing Infokall Malaysia and Infokall Dubai.
Sreedhar earned his Bachelor's Degree in Civil Engineering from Osmania University, Hyderabad, India.