CheckDocs - Smarter Document Collection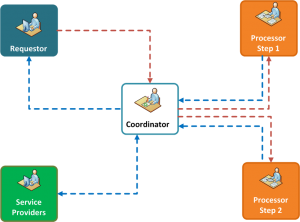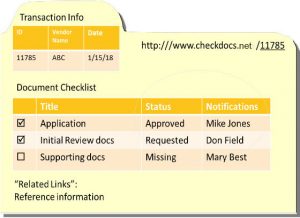 Despite new Cloud Content Management and Collaboration products that have promised to transform the way organizations work with business documents, most users still rely on Folders and Spreadsheets for managing Document Collection.
CheckDocs provides a single, secure and intelligent source for handling documents that are related and required to complete applications and business transactions. The following core functions are made available with CheckDocs:
Intelligent Check-list of what documents are required from whom
Securely submit documents from any location, any application, any device
Complete visibility by the reviewers on what's completed or missing
Quick review and acceptance/rejection of incoming documents
Ability to archive the document set as a PDF collection
Using CheckDocs checklist, you can specify what documents and information is needed at various stages of the process. If the information is missing, the applicant or participants are notified of request for information and given the option to upload the required documents with a single click. As documents are uploaded, appropriate users are notified to review and approve the incoming documents. Timers help send proper notifications and reminders to avoid any delays.
All CheckDocs activities are maintained in events logs. Participants can view the entire history for individual documents or group of documents as needed. Organizations can also do performance and process analytics to make sure they become more efficient in processing their document collection tasks and activities. Customized services can be added for customers that require CheckDocs to perform integration with other cloud and On-Prem systems.
With CheckDocs all document review & collection activities are carried out quickly and efficiently. No user training for where to find the documents and who/how to submit documents to. No need for sending documents via e-mails, CheckDocs will take care of that. If there are any questions regarding a specific CheckDocs document-set, all the user needs to do is ask CheckDocs, similar to working with Google Assistant or Alexa!
With CheckDocs you can quickly connect users to documents that are needed and eliminate creating Folders, Spreadsheets, sending emails with attachments or emailing/calling for status, etc. CheckDocs saves users and organizations significant time and eliminates the errors/rework when it comes to collecting and processing a group of related documents.